May the Fourth Be With You
K decided about
4
8 months beforehand that she wanted a Star Wars party for her 4th birthday, and I ran with it. I immediately realized how much material I'd have to work with, plus hi- may the fourth be with you? Perfection. Here are her invites:
Because I am crazy, I sewed a Jedi robe for each kid, as well as a light saber made from a pool noodle (good thing she decided on a theme early- since her birthday is in January, there were no pool noodles to be found. Luckily I bought them in
September
July. They were very simple, though- cut a noodle in half, cover the lower portion in shiny black duct tape, then make a design for the buttons out of shiny silver duct tape.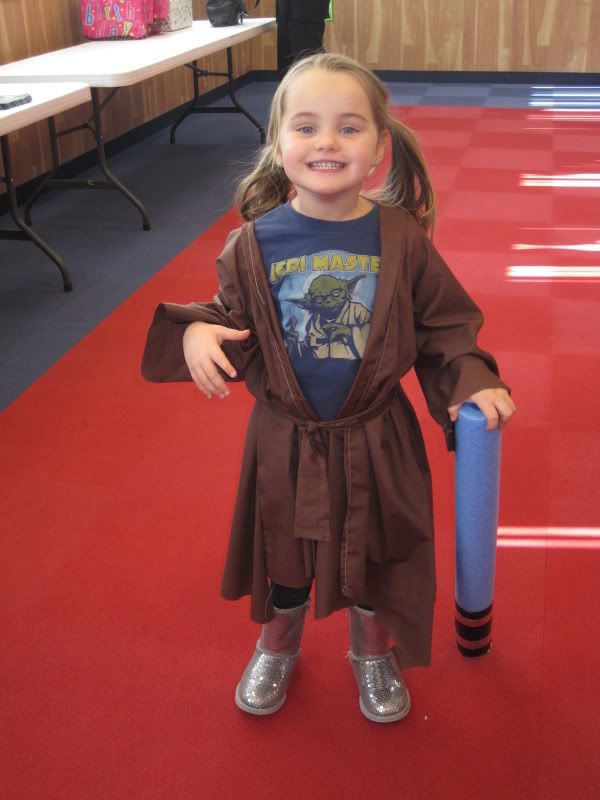 Cardboard rocket ship! Bought this from Kohl's. Fun fact: it is huge. Do not try to put this together two weeks before the event (I
would never do
did that). It doesn't come together easily nor does it come apart easily. I assembled it, then we had to basically partially disassemble it to get it there, but assembling it at the party space is NOT an option, it takes too long.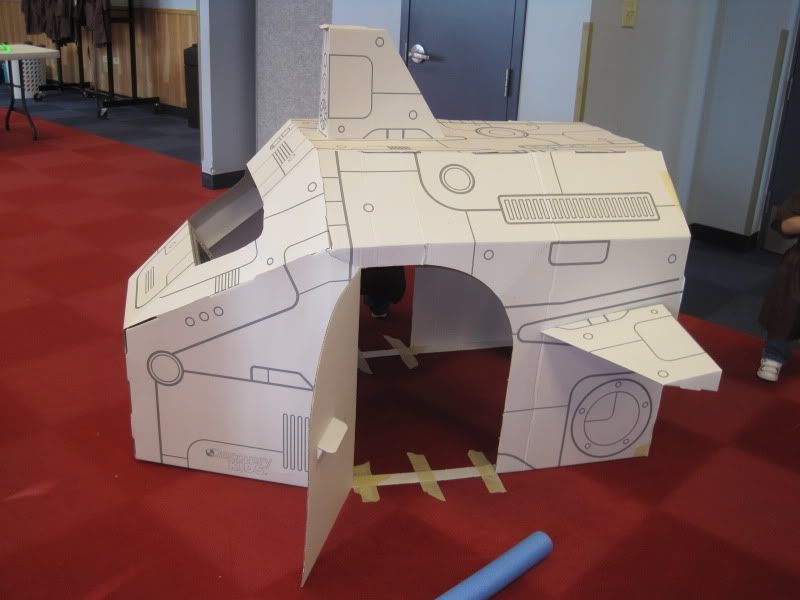 We had two craft stations. The first was a "Planet Creation Station". I bought a bag of styrofoam balls (use a 40% coupon from Michael's! These things are expensive, I would have liked to have done bigger- that's what she said), then dipped them in various colors of paint, then rolled them- while still wet- in glitter. Those were the "planets". I bought a big container of foam stickers that were space themed and also set out some shiny pipe cleaners. I know from experience that kiddos love to stick pipe cleaners in styrofoam, for some reason.
Second craft station was the Droid Assembly Station. I cut out lots of different shapes from construction paper. I provided glue sticks, sequins ("robot" themed when possible, like stars and gear shaped sequins), googly eyes, pipe cleaners, and smaller shapes cut from holographic paper.
We had to have themed food, too. I don't always do this but it was so easy with Star Wars!
The fruit light sabers went crazy fast. People love food on a stick.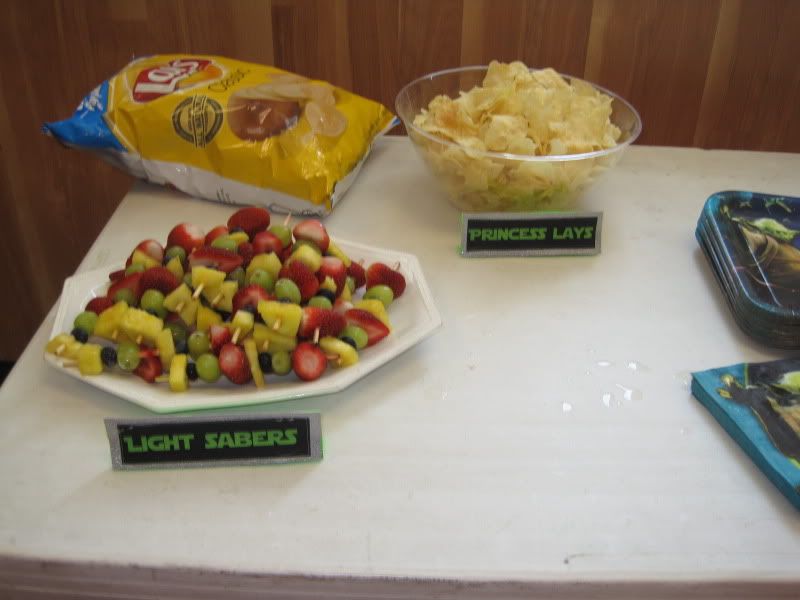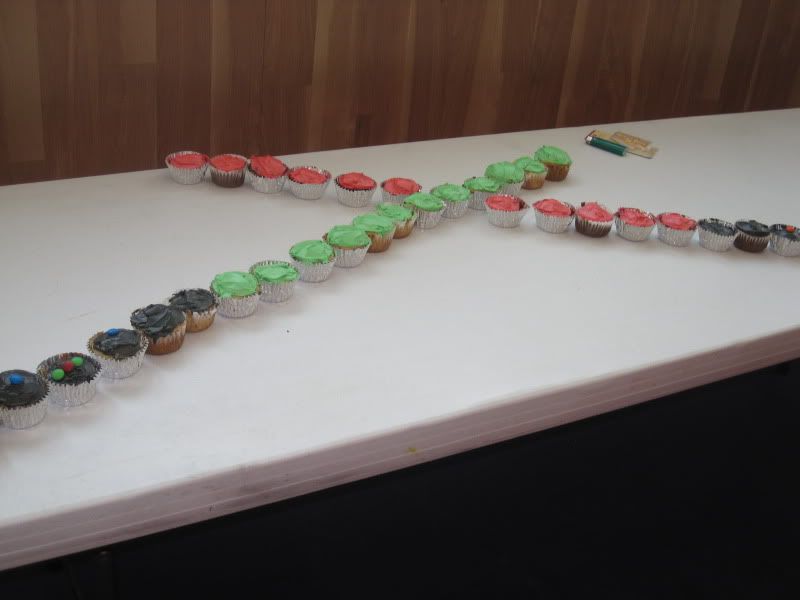 We also had "Pizza the Hutt" and "Bantha Milk", which was just milk colored blue- it's a Star Wars thing.
Since the invitation was Jedi training themed, we had 4 Jedi training modules plus a surprise task at the end. The first task was to keep a balloon in the air with their light saber, not letting it hit the ground. They loved this, this could have been their only task!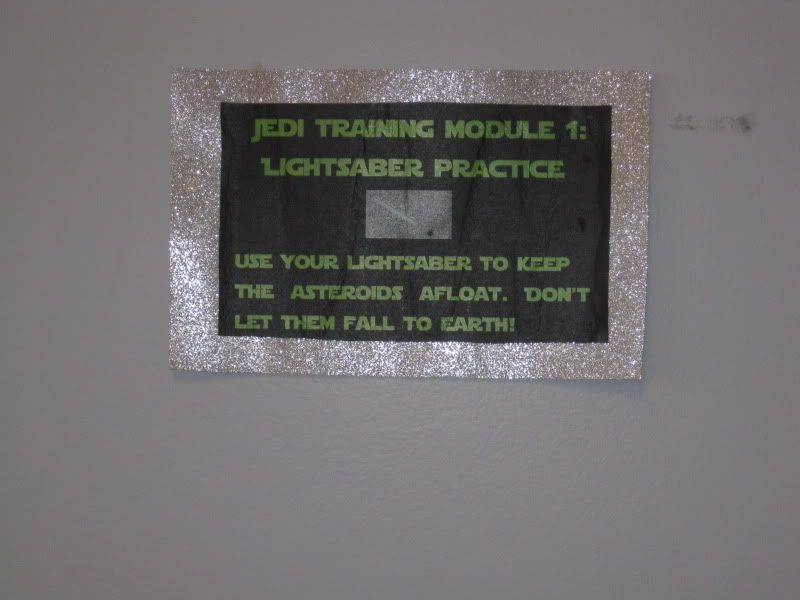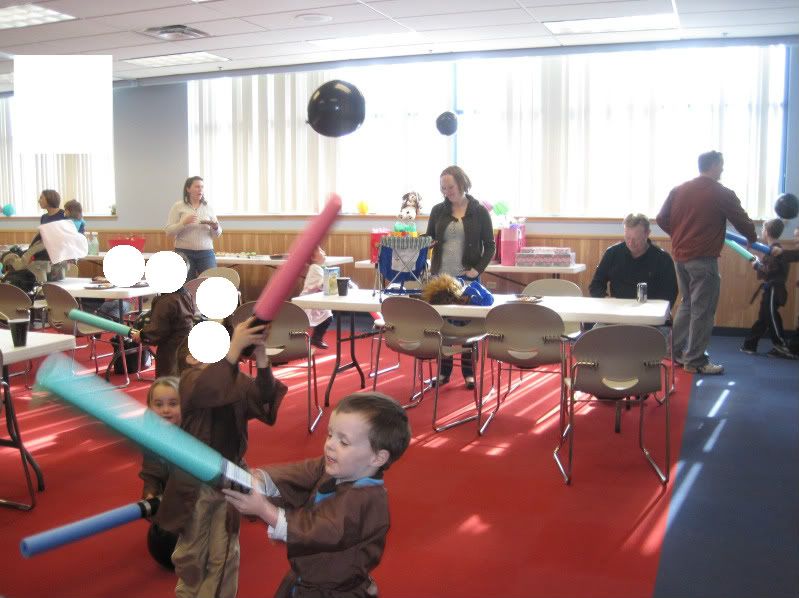 Training module 2- pin the light saber on Yoda. Had fewer kids for this, the rest were busy with their balloons.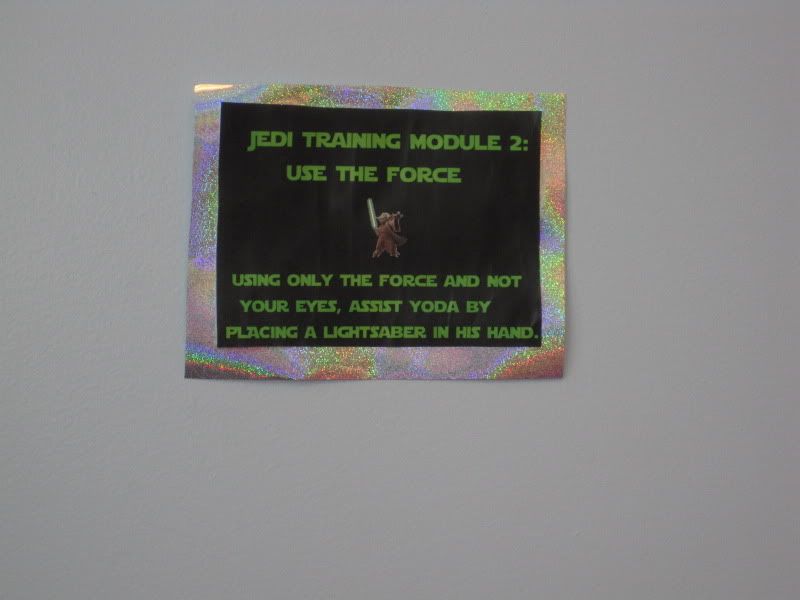 Training module 3- don't fall in the lava! I taped some paper rocks to a red table cloth and they had to jump from rock to rock without touching the red.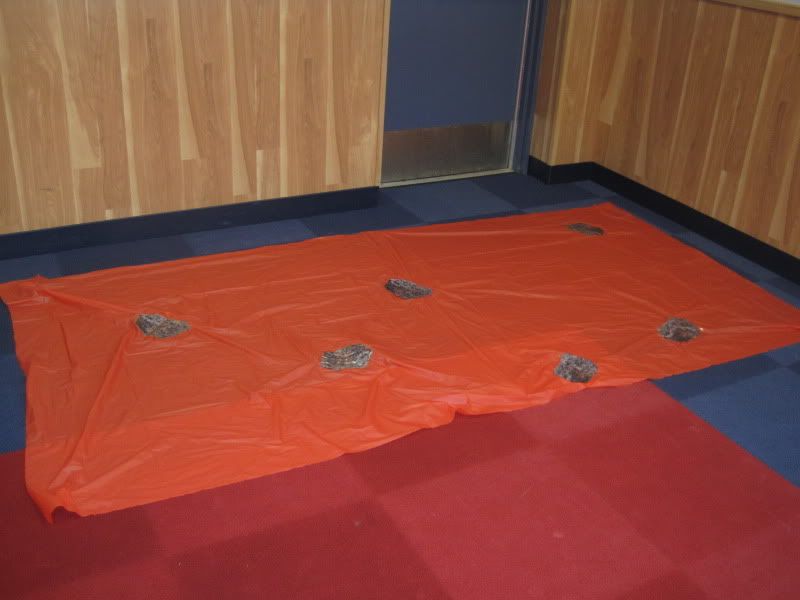 Looks like I neglected to get a picture of the fourth, but it was defeating the Death Star. I painted a soccer ball pinata grey, and I filled it with Star Wars suckers and glow bracelets.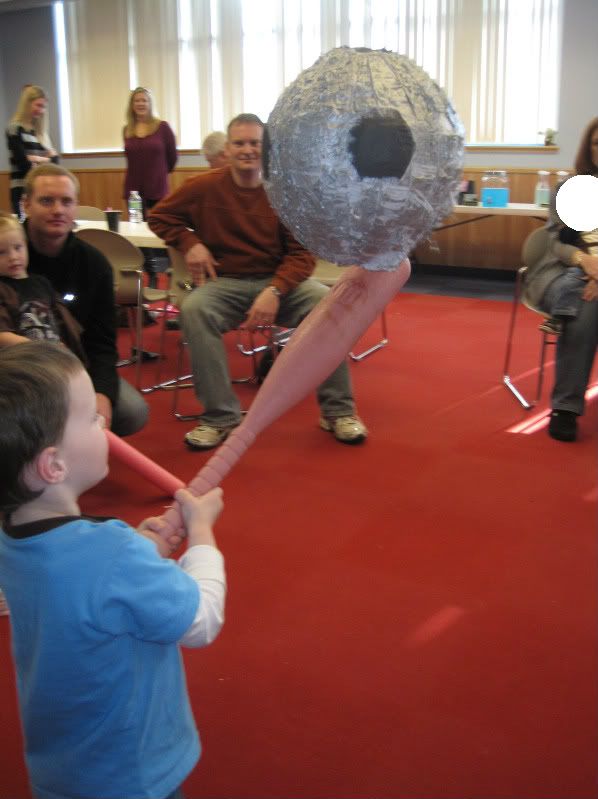 Then Darth Vader showed up and the kids whacked him with their light sabers (and, in one case, the baseball bat from the pinata) until he fell on the floor!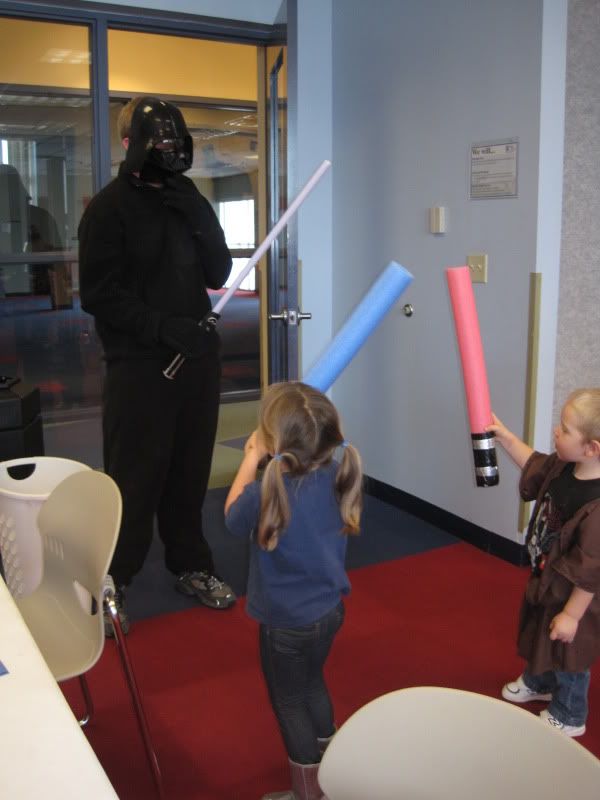 Down on the Farm
Through some pretty intensive Googling, I found a cute children's farm in our area (The Children's Farm at the Center, if anyone is in Chicago). And it was reasonably priced for parties, even better! Unfortunately, just my luck, the weather was awful. And we had quite a few no-shows, so it was a little bit depressing.
I went for a kind of old-fashioned feel with touches of gingham. I used gingham paper to hold Pirate's Booty (I worried that popcorn would make the admittedly thin paper greasy and then it would break...and kids love Pirate's Booty!). I also used huge giant marshmallows, dipped them in chocolate, and put red and blue sprinkles on top. HUGE hit.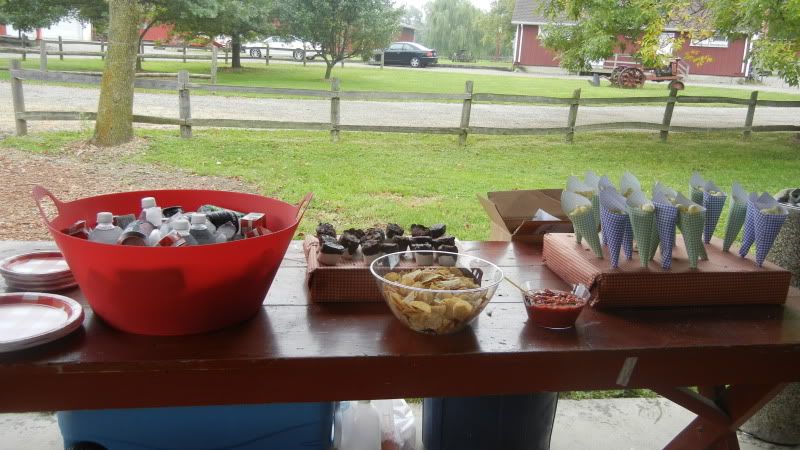 We had a milk bar, also another hit. I got plastic bottles on Etsy, and drilled a hole in each lid to allow for the straw (S was turning 2, so these are small kids who really shouldn't be running around with lidless drinks. Or glass bottles). I used chalkboard labels to write their names, so there was no confusion over whose was whose. Tied scraps of gingham around each bottle. I also put the fruit in little berry baskets, and we had apple cider. (Not pictured were Jimmy John's sandwiches, which everyone enjoyed!)
The favors- I got the buckets from Shindigz. I stenciled their names on them and inside is a caramel apple (I did fruit pouches for kids under 2) that was wrapped in a super cute gingham reusable snack bag, gingham pinwheel, old fashioned hard candy sticks, and two white eggs filled with farm animal stickers.
We had a good time, it was just too bad about the weather!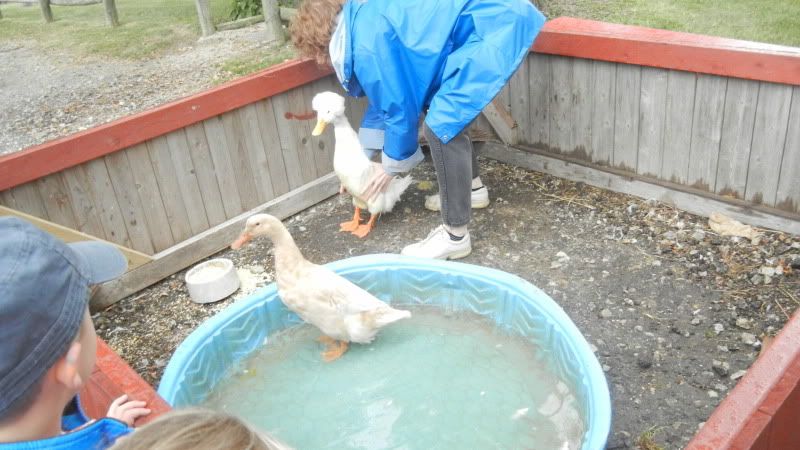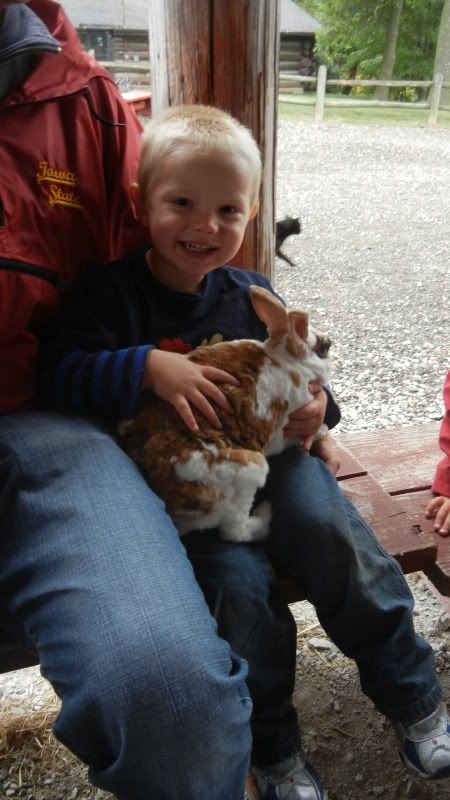 As you can see, we have gingham plates (just from Party City, got a steal around July 4th) and napkins. The cupcakes were just with red frosting.
Jungle Animals
What I tend to do for birthday party themes is do some research and narrow it down to about 5 things I think they'd like, and then I show the ideas to them and let them choose. K insisted on jungle animals for her 3rd birthday, and my mind immediately went to work. How cool would it be to incorporate
actual
jungle animals into the party? It sounds crazy, but we found a local exotic animal rescue group who did parties for a reasonable price. The money goes to the care of the animals, so it was very much worth it. They were awesome. I still love this party.
I went a little crazy, jungle themed wise. I really kind of wanted to do the party...NOT at home, but since we were having an alligator, it wasn't possible. So I did what I could, theme wise. For these, I just cut rectangles from old cardboard boxes, pasted the names on, and then glued random pieces of raffia around the edges.
We had a random big box, I think left over from Christmas. And I decided I HAD to have a jungle hut. And here it is. Just painted it and bought some greenery on clearance at Michael's. The kids loved it.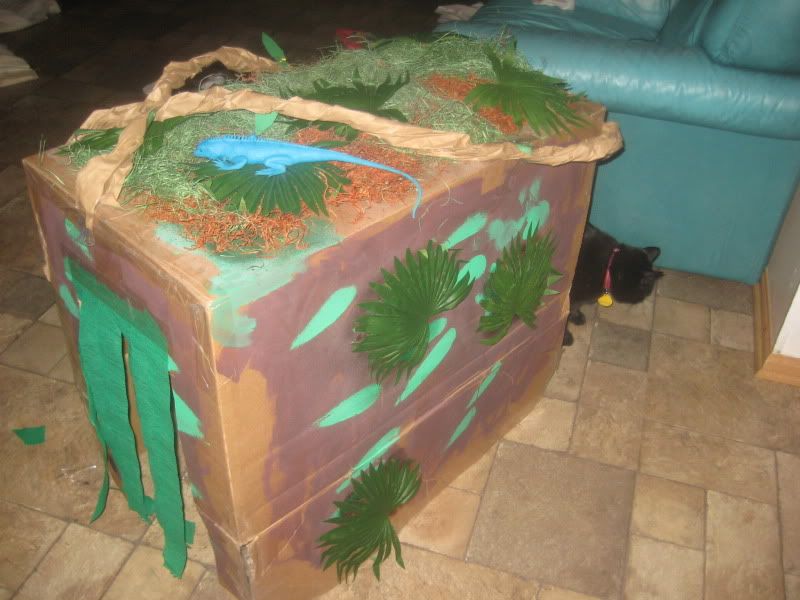 Cupcakes from Sam's Club (they are like, $13 for 36 cupcakes. It is quite a steal). Cupcake toppers from Etsy, how cute are they?
I bought this craft/favor from Oriental Trading. It's basically a foam picture frame, and I took a picture of each child with one of the visiting animals. We ran upstairs, printed off the pics, and stuck them in their frames. Woohoo, favor! With a lot of these foam kits, you should probably do some pre-assembly...most of the included animals were not even resembling animals when they came out of the box. I did a lot of gluing ahead of time to cut down on the work the kids had to do. I wrote names on the back of each frame ahead of time so no one wondered whose was whose.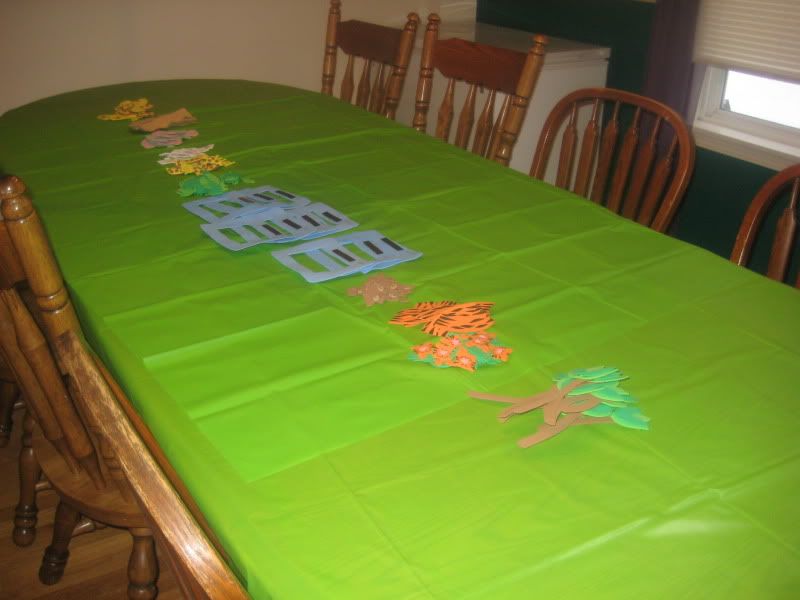 Vines in the doorway! I just used brown mailing paper and twisted the heck out of them, then taped every few inches.
Pretty lame sign post, but I kinda like it. ;)
I got some jungle animal suckers- also from Etsy- because I worried people would think the foam frame wasn't enough. It was nice to have something to hand out at the door.
Salsa Safari- aka, we did Mexican food. It went really well and was fairly easy. We did beans, beef, and chicken with hard or soft taco shells, with all the toppins.
Birthday girl in her jungle dress, specially made by a friend.
We rented a "rainforest" DVD for background theme, and it played jungle sounds too!
Now for the good part- visiting animals! I can't remember them all now, but there was a snake, fennec fox, alligator, lynx, turtle, parrot, and...a couple more.
Construction Party
K's birthday is in January so we are stuck inside. So I was pretty excited to have a September birthday, because I thought, hey September weather is safe. Now that we've had two outdoor parties, um, it's not. But anyway. His party was just at a local park, it had a playground as well as a fishing pond. His favorite toy at the time was his Chuck the Talking Dump Truck, and so a construction party was born.
It's hard to get pictures of a one year old. Here he is in his shirt, from Etsy.
His cake, custom made by a lady who is sadly no longer in business.
The tables, before the wind swept everything away. Lots of yellow and black. I got orange cones from the Target dollar bins, and used whatever tools or construction stuff we had.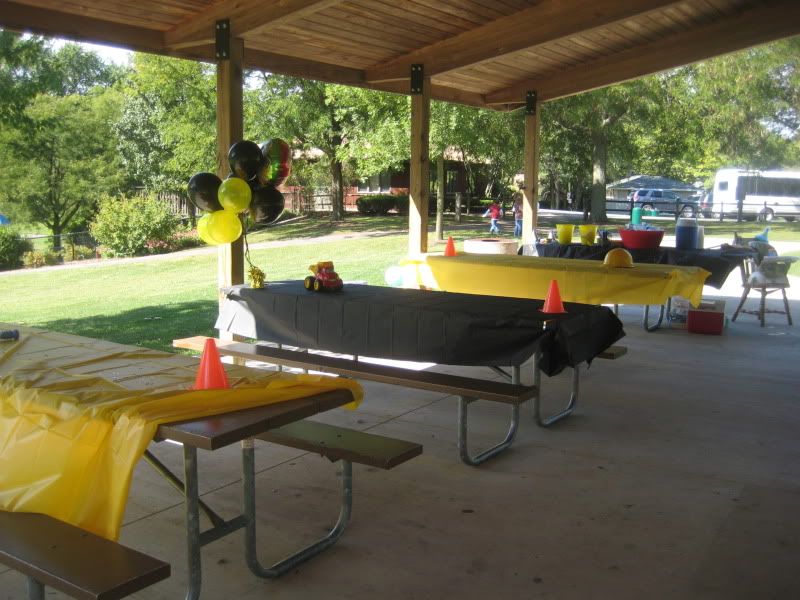 It seems I really didn't take many pics of this party (ok, there wasn't much to take pictures of), but really, what else do you need to take a pic of at a one year old's party?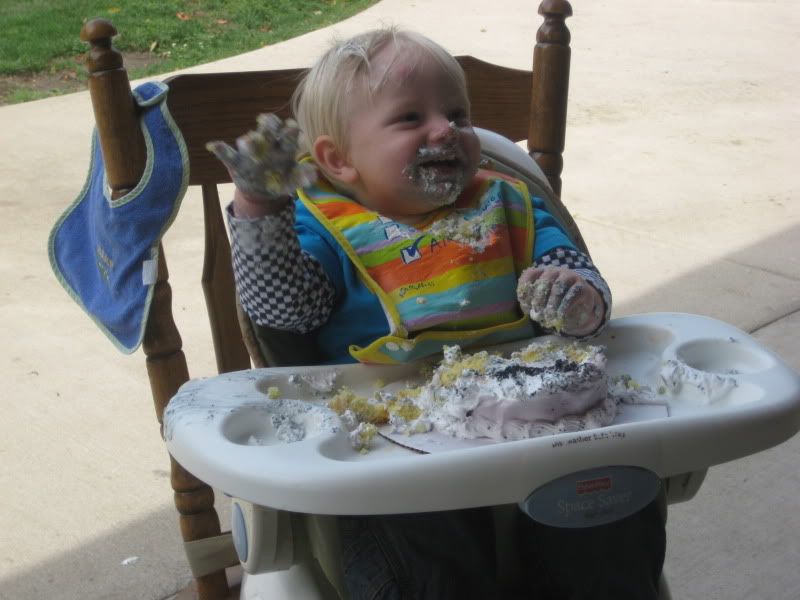 I brought a basket of outdoor toys- some balls, this badminton set, I think bubbles. It was really too cold and no one played with anything. But I like the
idea
.
I got these cute little lunch box type favor boxes, I think they were from Lori's Parties. Inside were construction themed tattoos,
tool shaped bubbles
, I think a cookie (?),
a mini measuring tape
, and a Bob the Builder Tummy Tickler. Notice the cake in the hair and the goose egg on the forehead. Ah, to be one again.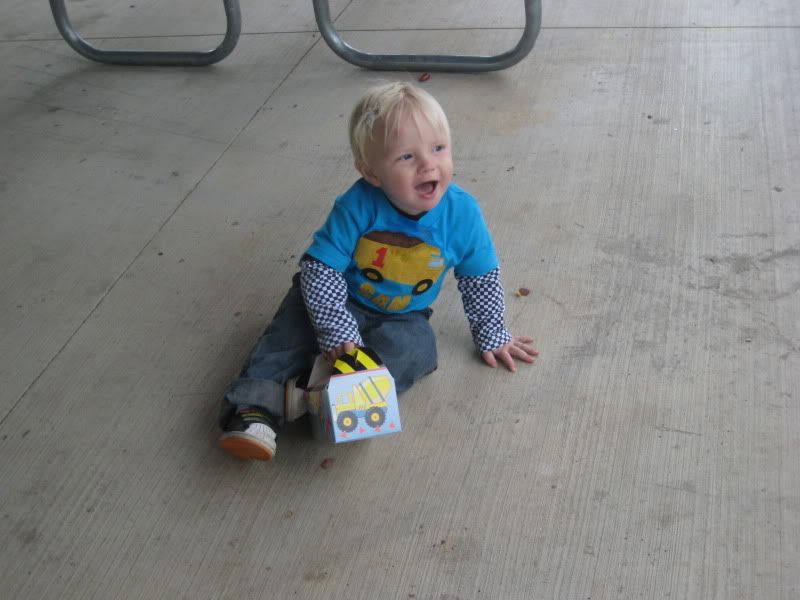 Yo Gabba Gabba
K was the biggest YGG fan around, back in the day. Unfortunately for
me
, she liked it before it was super popular. So I had to buy everything online, had to get a custom cake made, etc. But it turned out really cute, just the same!
The favor bags- just red paper bags and I cut out the eyes and pasted them on. Voila, Muno. Inside were YGG stickers, a crazy straw, a Muno cookie (I am not a cookie decorating master, to say the least. It's just a sugar cookie covered in red frosting, covered in white frosting, with a black dot for the eye), and a customized Jones soda (that pic of is K as DJ Lance on Halloween)! I *try* to be reasonable with my gift bags- as in, consumable stuff. Food or art supplies, stuff that won't sit around as junk forever.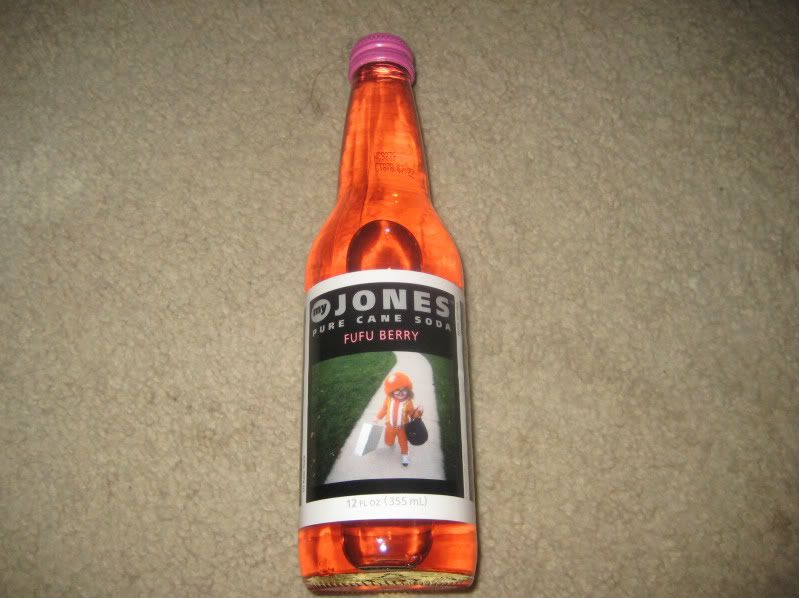 I bought a balloon set on Ebay...you could do this yourself, I just did not have the energy with a 4 month old!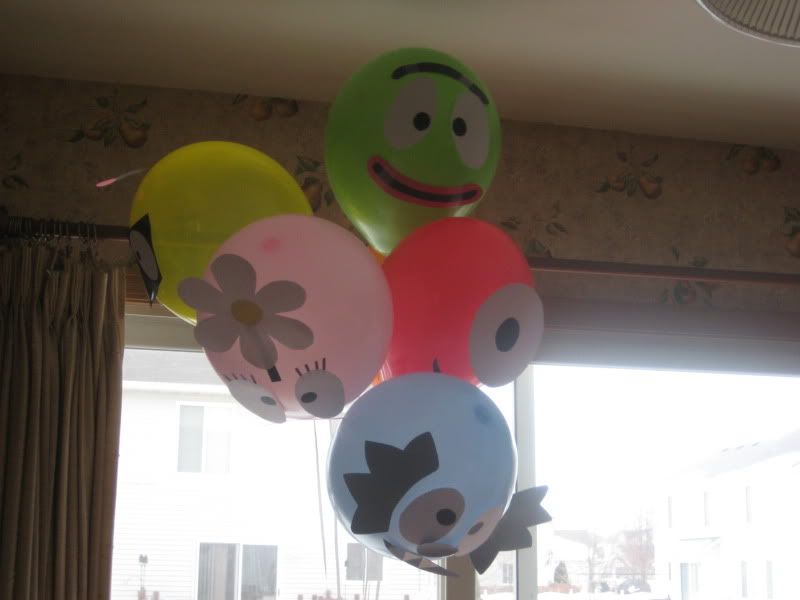 Pretty simple table...centerpieces bought from Celebrate Express.
Custom cake, I am so sad this lady stopped her business. Her cakes not only looked awesome, but they tasted awesome too!
Use what you have for decorations!
More using what we had- books lined the food table, plus more balloons. We did a build your own sandwich deal.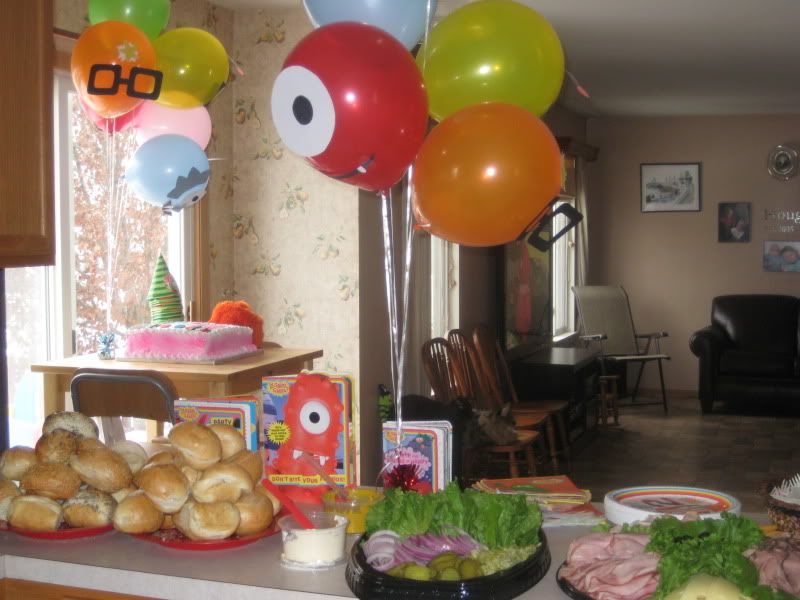 The birthday girl- shirt from TysToyBox.